Please note javascript is required for full website functionality.
AURA...sleek Swedish design
Attractive & durable AC EV charging.
Easy to use & in operation at numerous commercial sites in Australia & NZ
The key features of the AURA include:
Robust, high quality design & construction
Wifi connectivity and smartphone app
OCPP compliant
Selectable charge rate from 6 amps
Adds up to 120kms range per hour connected
Fixed installation for greater security
The AURA AC EV charger is flexible & durable:
Attractive & appealing to EV drivers
Illuminated charging ports & night charging
Capable of being monitored, managed & monetised
Temperature and UV resistant
Protecting rating IP66
The ChargeAmps AURA EV AC charger is easy to install:
Accessible power connection
One cable run per unit gives economical EV charging
Wall or floor mounted with in-house fabricated pedestal
If you'd like to know more about the ChargeAmps AURA AC EV charger, please get in touch with the EVUp team.
Robust Swedish design for Aussie conditions
Surface area for your branding
Closed loop, 100% recyclable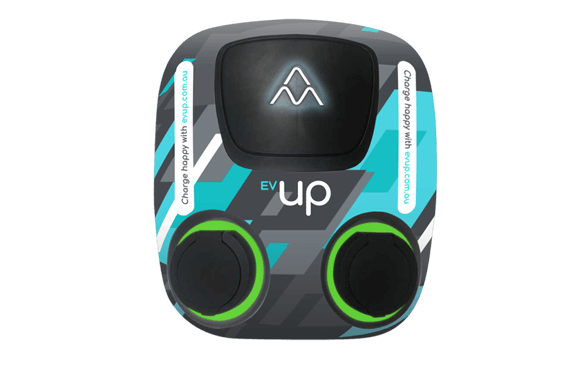 We need agility to service all technologies moving forward, especially in the automotive race to zero-emission targets. Our EV charging network is a customer driven imperative and we have seen a positive interest from day one of installation.

- Steve Grossrieder, Jax Tyres CEO
Chargeamps Aura
EV network locations.
Our range of charging products, including the Chargeamps Aura EV charging unit, have been deployed & are being used by site and EV owners in these EVUp network locations (with more being regularly added).
Would you like more information about the Chargeamps Aura EV charger?
We're planning to deploy a number of Chargeamps Aura chargers across Australia & New Zealand to better connect EV drivers with fast charging.
If you'd like to know more about the Chargeamps Aura, just enter your name & email address below or give us a call & we'll send you a printable EV AC & DC charging proposal, complete with workflow, billing & support information.
Charge happy with EVUp.