Connected EV charging for auto aftermarket & fuel stations
Transitioning to new technology can often create uncertainty in any industry & this is true of traditional automotive & petrol station businesses.
As electric vehicles continue to gain market share, all auto & petrol businesses can prepare for this transport transition by accessing impartial advice & information.
As the cost & range of EVs reach parity with traditionally fuelled vehicles, auto & petrol customers will choose businesses that are future-proofing their services with convenient & accessible EV charging.
When speaking to clients in this industry, the EVUp team are commonly asked a range of questions including:
When is the right time to install EV charging?
What charge rate should we offer?
Which EV charging products are best for our site?
Where should EV charging spaces be located?
Can't we just install some Tesla charging points?
Successfully deploying electric vehicle charging at auto & petrol sites can be complex, with a range of considerations such as the location of the business, number of car parking spaces available & supply of power to the site.
Having a solution that is scalable as demand increase, as well as appealing to as many EV drivers as possible, are also important factors.
The successes we've built with current & ongoing EV charging partnerships have been built on patient planning & strategic decisions to best suit customer requirements.
On all EV charging units, we can integrate your branding as well as loyalty card or memberships for remarketing opportunities.
Case study:
When JAX Tyres set targets to deploy EV charging to each of their 89 sites across Australia, they made a commitment to provide 'forever free' charging with ChargeAmp AURAs being rolled out to each location. The aim was to build loyalty in their brand, articulate their sustainability goals & position themselves as a forward-thinking brand in step with market trends.
We need agility to service all technologies moving forward, especially in the automotive race to zero-emission targets. Our EV charging network is a customer driven imperative and we have seen a positive interest from day one of installation.
- Steve Grossrieder, JAX Tyres CEO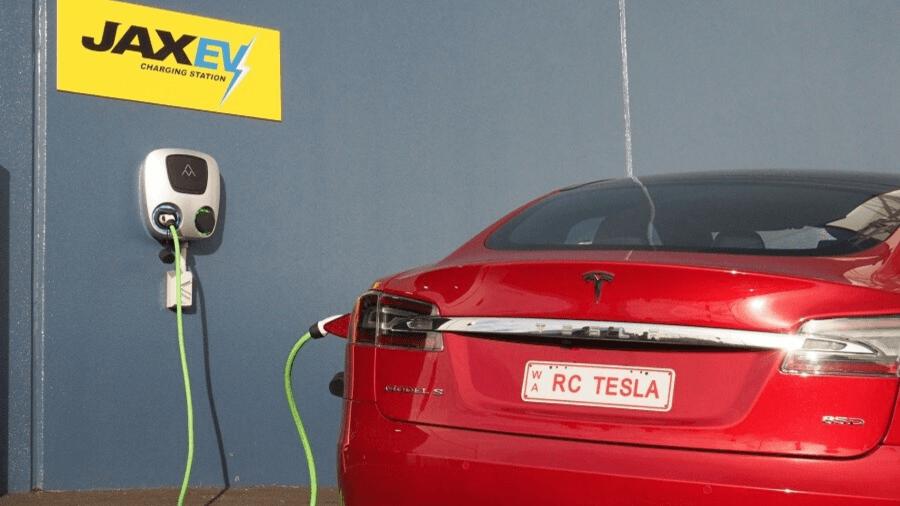 We believe in offering impartial advice & consultation for as long it takes for your auto or petrol business to make strategic decisions about retrofitting or forward planning onsite EV charging.
We're proud to be growing & supporting Australian manufacturing & innovation by supplying locally-made AC & DC EV charging products…the only Australian EV charging network to do so.
When you join the EVUp network, we'll recommend & install integrated & intelligent EV charging for your auto or petrol location, connecting you to a growing EV community across Australia & New Zealand.
EVUp. Charge happy.
Join our growing EV network!
We'd love to have you join us…for more information, please get in touch by email or phone & we'll send you a printable EV AC & DC charging proposal.