Load managed EV charging for bus, truck & car fleets
The diversification of corporate, government & commercial vehicles to low-emission transport has become a priority for fleet managers.
While alignment to sustainability plans or a climate emergency declaration are increasingly the primary reasons, the fact is that electric & plug-in hybrid electric vehicles are now financially attractive.
As they chase purchase price parity with internal combustion engine vehicles, EVs are being recognised by fleet managers as cheaper to service & 'fuel' than traditional transport.
The emerging used car market for EVs also suggests they'll hold their value more effectively than ICEs & attract demand from Australian drivers wanting a more budget-friendly price point.
As with all commercial electric vehicle charging, the considerations of fleet managers largely centres around the following questions:
When should we diversify our fleet to include EVs & PHEVs?
What is the most cost-efficient way to charge our fleet?
Can EV chargers be located both onsite & at the homes of staff members?
How can that be managed & monitored for electricity reimbursement purposes?
We believe that strategic planning for the installation of EV charging to suit driver usage & range is the best way to create a successful fleet charging partnership.
Offering Australian-made & leading international charging products that suit your current demand & which are also scalable to meet increased charging demands is vital to this success.
Case study:
The Northern Central Catchment Management Authority (NCCMA) have taken a leadership approach in reaching carbon neutrality, including powering their fleet of EVs & PHEVs via GARO Wallboxes with an onsite 50kW solar system.
We have a desire to do more than just limit our carbon emissions, but to show leadership across the sector, and these chargers are a key part of that strategy. Not only have we committed to electric or hybrid vehicles where we can, but we want to promote their use, and show the community what an easy alternative they are to the combustion engine. About half of all cars sold in Australia are fleet cars, so there's a real opportunity for fleet managers, especially in all levels of government, to make a real difference.
- CMA Corporate Services Executive Manager Adam Woods.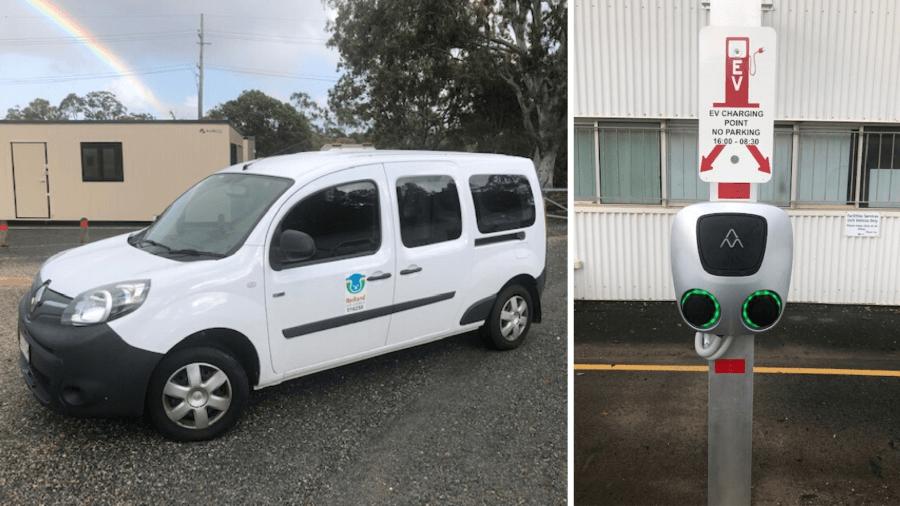 Future fleet mobility will include a range of electric drive options, strategically chosen to meet organisational range, cost & charging requirements.
We believe in encouraging local job & innovation growth by recommending & supplying both AC & DC electric vehicle charging products…the only Australian EV charging network to do so.
The EVUp network can connect & manage privately operated or publicly available charging points for fleet managers, providing simple access to usage data.
We're accelerating the deployment of EV charging to increase awareness of low-emission transport for cleaner cities & a brighter future.
Charge happy with EVUp.
Carbon responsible fleet options!
For intelligent & integrated electric vehicle charging for your fleet, we welcome you to get in touch by email or phone to find out more about joining our growing network.