Please note javascript is required for full website functionality.
GARO Wallbox…market leading European design.
Universal & robust AC EV charging.
Made in Sweden, deployed worldwide.​
The key features of the GARO Wallbox 22kW include:
Attractive Swedish design
Robust & reliable for EV driver use
Selectable rate of charge from 6amps
Adds up to 100kms of range per hour of charge
Troubleshooting & support package available
The GARO Wallbox AC EV charger is flexible & durable:​
Auto illumination
Capable of being monitored, managed & monetised
Temperature and UV resistant
IP66
The construction of the GARO Wallbox means:
It's easy to upgrade in future
Flat areas for branding or advertising
The GARO Wallbox EV AC charger is simple to install:
Rear cable entry
Internal RCBO Type A + DC
Can be wall or floor mounted with our in-house fabricated pedestal
If you'd like to know more about the GARO Wallbox AC EV charger, please get in touch with the EVUp team.
Neat, single port charging
Modular design for easy upgrade
Flat surfaces for your branding
Closed loop, 100% recyclable
Robust & attractive design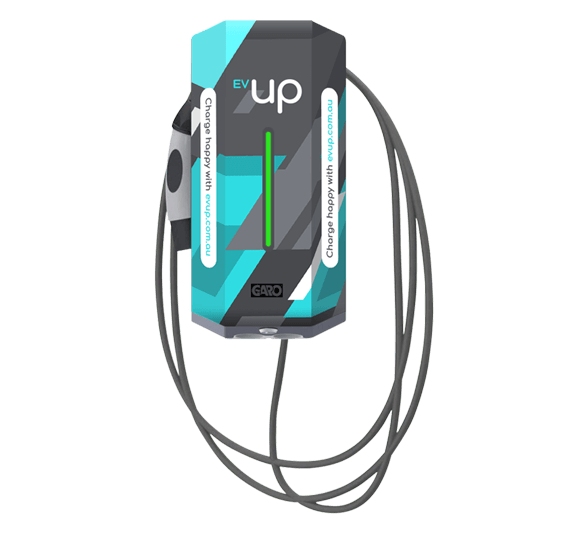 The Cowes Transit Hub electric car charging installation project was part of a $2.4 million revitalisation program completed in conjunction with PTV and the Bass Coast Shire. Funding was also supplied from Regional Development Victoria and Changing Places Victoria. The EVUp and EVolution Australia team provided advice and advocacy to the site project managers around a combination of Tesla and GARO Wallbox charging units so the site would be compatible for ALL electric vehicle drivers. There have been multiple positive check-ins from EV drivers since the Cowes Transit Hub EV charging project was commissioned.
Garo Wallbox
EV network locations.
Our range of charging products, including the Garo Wallbox EV charging unit, have been deployed & are being used by site and EV owners in these EVUp network locations (with more being regularly added).
Would you like more information about the Garo Wallbox EV charger?
We're planning to deploy a number of Garo Wallbox chargers across Australia & New Zealand to better connect EV drivers with fast charging.
If you'd like to know more about the Garo Wallbox, just enter your name & email address below or give us a call & we'll send you a printable EV AC & DC charging proposal, complete with workflow, billing & support information.
Charge happy with EVUp.