Please note javascript is required for full website functionality.
The AURIGA…Aussie EV innovation.
Functional & practical AC EV charging.
Proudly designed & made in Victoria by our partner company, EVolution.
The key features of the AURIGA include:
Proudly designed & made in Australia by EVolution
Robust & reliable for public use
Up to three plug ports which can charge up to 22kW on each simultaneously
Charge ports can be set to fixed maximum current to suit available power​
Troubleshooting & support package available
Compatibility with every EV & PHEV currently available on the Australian & NZ market
The AURIGA AC EV charger is flexible & durable:
Feature rich and future proof
Automated illumination
Capable of being monitored, managed & monetised
Temperature and UV resistant
IP55 / IK10
The AURIGA's modular construction means:
It's easy to upgrade in future
Large flat areas for branding or advertising
The AURIGA EV AC charger is easy & efficient to install:
Accessible power connection
Floor or rear cable entry
Internal RCBO Type A + DC
No pedestal required
If you'd like to know more about the AURIGA AC EV charger, please get in touch with the EVUp team.
Modular design for easy upgrades
Robust design for Aussie conditions
Flat surfaces for your branding
Closed loop, 100% recyclable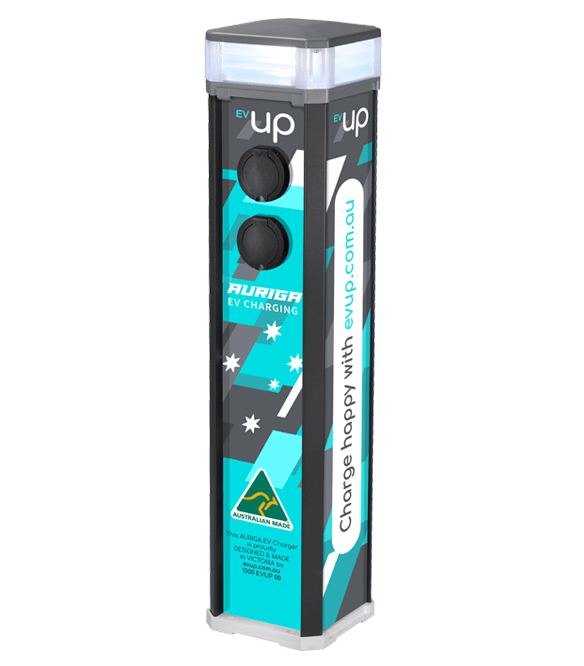 The AURIGA'S modular, closed loop design is the perfect fit for our community / Council electric vehicle charging project partnership. We also loved the fact it's made in Victoria and that we're supporting local business. It means EV drivers will visit and stay in Buninyong for longer and spend money with local traders. The EVUp team were extremely responsive and professional, passionate experts in electric vehicle charging infrastructure and we couldn't have delivered this project without them.​

- Andrew Aitken, Buninyong Sustainability Group.
Evolution Auriga
EV network locations.
Our range of charging products, including the Evolution Auriga EV charging unit, have been deployed & are being used by site and EV owners in these EVUp network locations (with more being regularly added).
Would you like more information about the Evolution Auriga EV charger?
We're planning to deploy a number of Evolution Auriga chargers across Australia & New Zealand to better connect EV drivers with fast charging.
If you'd like to know more about the Evolution Auriga, just enter your name & email address below or give us a call & we'll send you a printable EV AC & DC charging proposal, complete with workflow, billing & support information.
Charge happy with EVUp.