If you send your EV to a workshop for repair surely you'd expect it to be returned #fullycharged?

EVup is proud and humbled to partner with both myenergi, Tufflift Hoists and Sheen panels to integrate and option the super smart Zappi with all commercial grade hoists.
With integral load management, advanced reporting and (of course) eco-smart charging, the Zappi well suited for use within workshops of the future.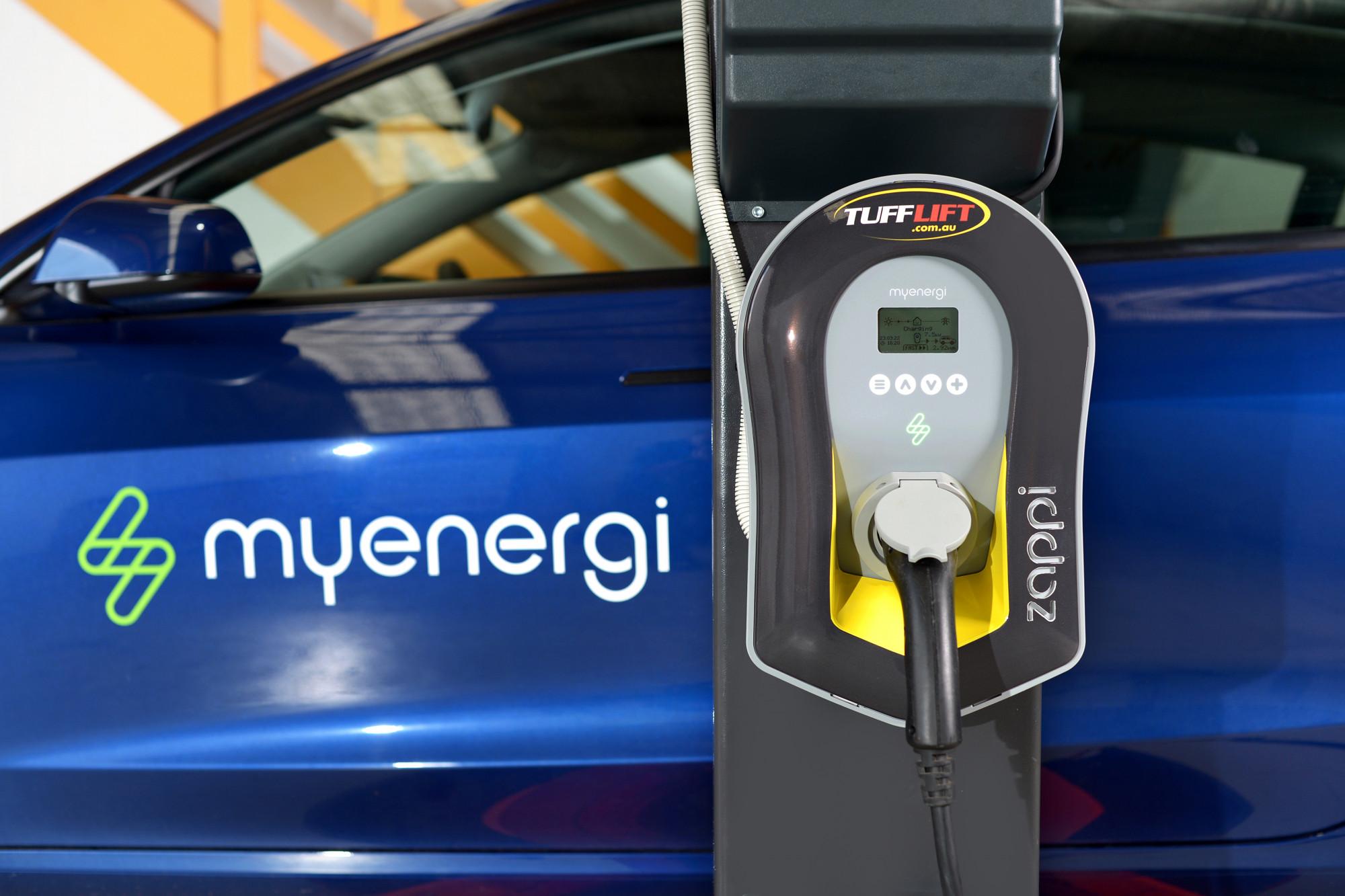 EV Integration and Training Instrumental to Reliable Car Charging For Fleets
Crucial to this project was the training both Tufflift installers and The Sheen Group staff received from the EVUp integration EV Fleet training team. More used to fleet training, all parties clearly understand the value of our products and customer satisfaction which is so important when representing our brand. Our team worked diligently with both tufflift and myenergi to tailor the training programme to meet team member needs and support all parties during the development and ultimately the launch. We're looking forward to seeing many more EV drivers experience the fully charged treatment from Tufflift equipped workshops in the future.
Zappi EV Electric Car Charger - the obvious choice for Automotive Workshops
Easy to install and maintain, cost effective to operate Myenergi is the global leader in solar smart EV charging infrastructure and specialises in enabling both residential and commercial customers to take control of their energy use and redirect self-generated power to charge their electric vehicles.
Moreover, the Myenergi ecosystem empowers residential and commercial customers to monitor and manage energy usage and optimise charging of electric vehicles via an intuitive portal and app. Crucial to this setup is the integration with Tufflift hoists such that no additional power supply is required, as the charge rate is adjusted to dynamically match power supply of the premises. So sensitive is the setup that the Zappi will adjust the charge rate as power tools and hoists are used in the workshop. This will save thousands of dollars in supply upgrade costs for workshops right across the country making this solution affordable for businesses of all sizes. Customers can expect their car returned both professionally repaired and fully charged David Potter, the director of Tufflift said "Tufflift is very excited to release this new EV charge station in partnership with Myenergi, and to be able to offer it to our Tufflift customers." Both teams have worked hard to make sure the solution integrates perfectly with the hoists and is both easy and safe to use.
Fast Electric Car Charging For Any Workshop In Australia
This now means that any Automotive workshops or Smash repair workshops, can safely, reliably and quickly charge a customer's vehicle while it is being repaired and even if it's in the air on a hoist. Mobile pedestal option available We also have a pedestal mounted unit if our customers prefer dedicated charging bays. For the consumer, it means they can have the confidence that if they send their EV to a Tufflift equipped workshop, their car will invariably be returned to them fully charged. Myenergi, Tufflift Hoist Australia and The Sheen Group collaborated to install a prototype into a Sheen Group facility. Training instrumental to the EV transition Russ Shepherd, MD of Myenergi APAC, said "This makes total sense to us! As an EV owner, why visit a workshop that doesn't have chargers installed? . We're looking forward to seeing many more EV drivers experience the fully charged treatment from Tufflift equipped workshops in the future.

Contact us on 1300 388 700 or charge@evup.com.au to find how your workshop or smash repair business can start immediately attracting EV owners to you venue.