What is RegionCharge?
RegionCharge takes greentech innovation out of the city and into the country, by building Aussie-made electric vehicle charging infrastructure in regional and rural areas.
We work with communities to help them assemble and install their own electric vehicle charging units in their home town, and hope to inspire Aussie greentech skills and innovation as the transition to low-emission transport gathers pace.
RegionCharge also seeks to encourage EV uptake, by familiarising communities, organisations, businesses and Councils with charging technology and reducing concerns about range anxiety.

At a local level, this program leads to training and social enterprise partnerships, regional jobs and skills growth, particularly for young people, and community pride and placemaking.
Nationally, RegionCharge helps to accelerate the uptake of decarbonised transport, domestic EV tourism, climate change mitigation efforts and helps to reduce air pollution which improves community health outcomes.


EV charging greentech,
proudly made in
<insert your town here>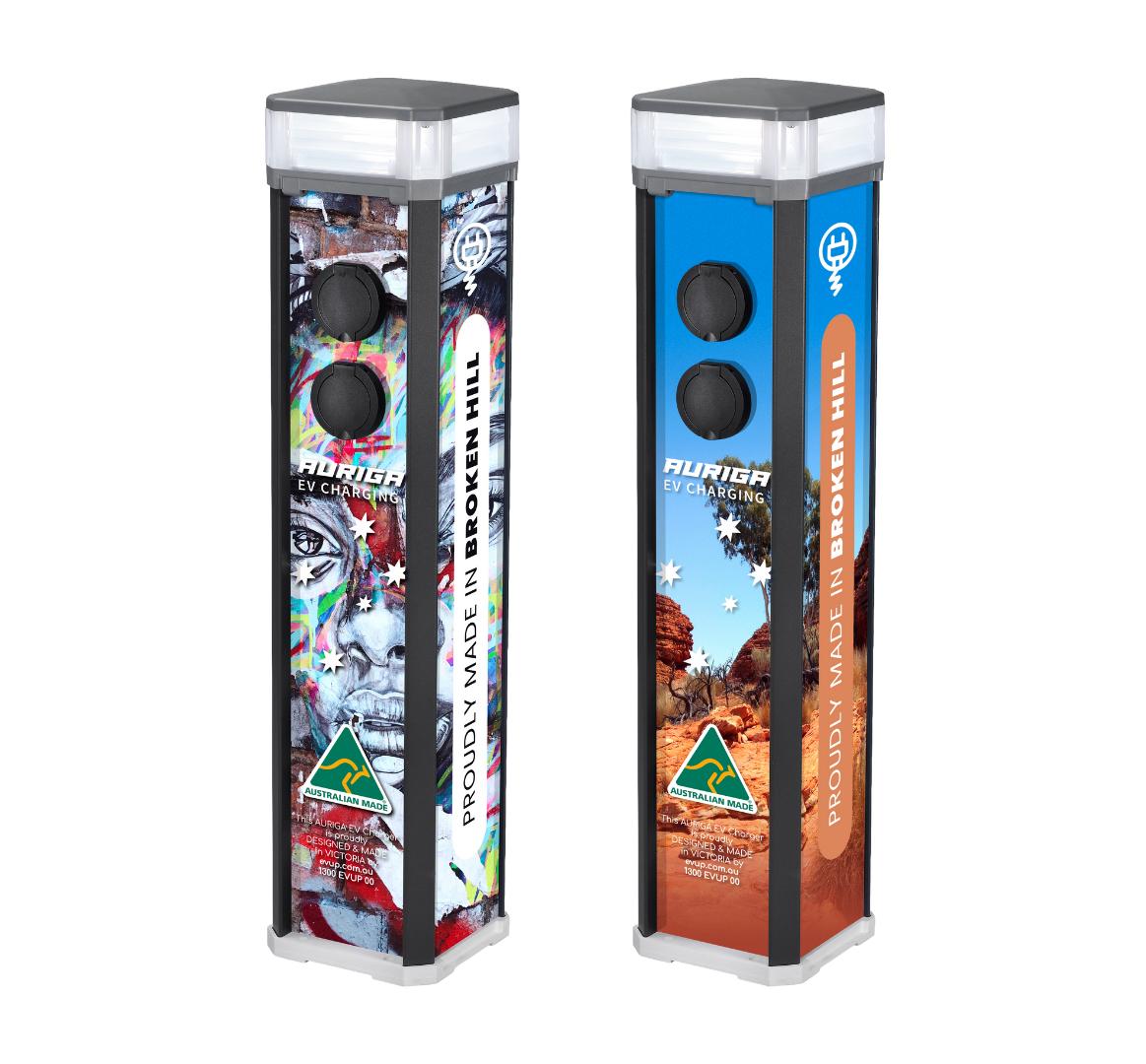 How does RegionCharge work?
This project is all about community engagement.
Component parts of the Victorian-designed AURIGA are sent to country-based community groups or education and training organisations where they are assembled into complete EV charging units. We've designed the components and process to be simple to follow, and we'll provide you with a manual and support to complete this step.
Once assembled, each unit is tested for compliance by a qualified electrician.
Your EV charging AURIGA units are then branded with local art and messaging, and then installed in places where people shop, work and play, creating a sense of community pride.
What are the benefits?
RegionCharge provides an opportunity to promote local jobs, skills and innovation, as well as a fantastic opportunity for young people to get their hands on green-technology they'd never usually see outside major cities.
For the EVUp team, the best outcome is bringing communities together to create something that is completely unlike any grassroots project ever seen before!


The
EVolution
Auriga
is the only AC EV charging product with
Made in
Australia
registration
SAFETY & SECURITY Auto night illumination
E-MOBILITY CHARGING Electric vehicle + ebike + electric bus charging compatible
FUTURE PROOF Modular build for easy upgrades
LOCAL DESIGN Flat surfaces for public artwork
CLOSED LOOP Made with recyclable materials
HARDWEARING Robust pedestal design
CONVENIENCE Wireless phone charging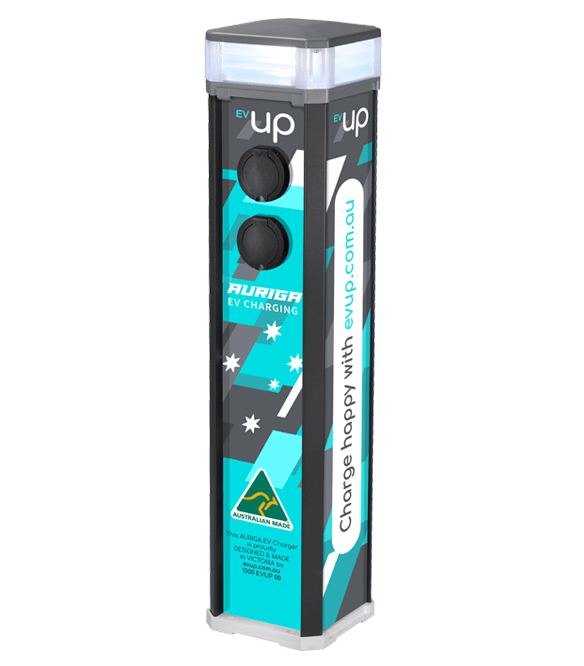 How can you get involved?
Region Charge is shovel ready and we can start getting your community EV ready right away.
Join us for a short online webinar to learn more about the program. From there, we'll create a RegionCharge Plan, where we explain more details of the program, collate a list of your requirements and put together a proposal for your community group, Council or commercial sites.
Ready to charge your region? Let's go!
Download our welcome pack by clicking the button below or email RegionCharge Project Lead Jack Shaddock at jack@evup.com.au to book into our next contactless virtual presentation.
"The AURIGAs closed loop design is the perfect fit for our community / City of Ballarat EV charging partnership. We loved the fact it's made in Victoria and we're supporting local business. EV drivers visit and stay in Buninyong for longer and spend money with local traders. It was great working with the EVUp team who were extremely responsive and professional, passionate experts in EV charging infrastructure.​"
- Andrew Aitken, Buninyong Sustainability Group.